Craft Spirits News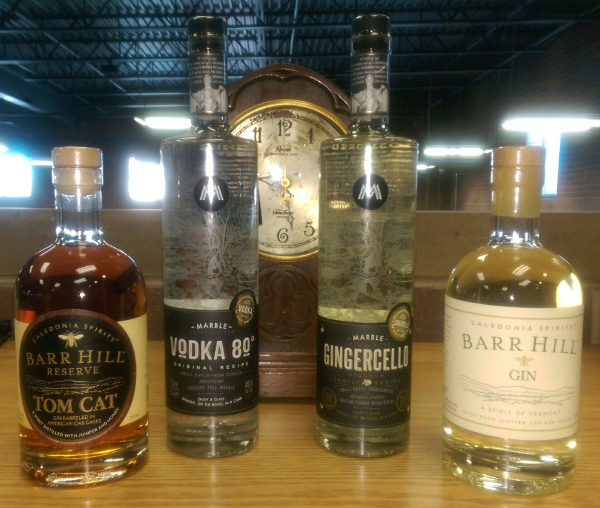 Please note, Andrew is no longer with the store. Trevor Williams is our new liquor buyer. His bio is coming soon.
Welcome to Craft Spirits Denver and a conversation with Andrew Burton, liquor specialist for Argonaut Wine and Liquor, Denver's largest liquor store.


How did you become so knowledgeable about liquor?
I've worked in the industry for many years. A big part of my job is trying new products to decide if we want to carry them. There's also quite a bit of literature available concerning the production and history of spirits.

So you hate your job?
Yeah, it's awful! (big laugh)

I've heard the term, but don't really understand it. What are craft spirits?
The use and meaning of the term 'craft spirit' is currently the subject of debate and is not regulated by the government. Smaller distilleries would generally be what I consider 'craft'. 'Craft spirits' should be made locally, often with local ingredients, ownership and operation generally being the same persons. Once production becomes automated, ingredients or distillates are sourced from out of state, and ownership is transferred to massive conglomerates, it doesn't really seem crafty anymore.

What makes them different from regular spirits?
Generally, more man hours are involved, higher quality ingredients are used, and a higher attention is paid to detail and quality. Craft distilleries often associate their name with their products, so it's important to them that what they're serving is the best they can produce and sell. Larger companies are able to produce products in a lab, send it to market and see if it works. If it doesn't work the product is discontinued and replaced with the next one. Craft often relies on ingredients like pure water source and organic grain, corporate tends to rely on food coloring and artificial flavoring. Having said all of this, there are exceptions to the rule on both sides of the debate. Volume would be a good indication as well. It really comes down to which specific product you're looking at anymore.

What are your favorite local distilleries?
Definitely Peach Street. They make a whiskey called Colorado Straight, which is one of the better local bourbons. It has deep character and a fruity flavor. Also Leopold Brothers. They produce 10 -12 liqueurs, several gins, rye and bourbon style whiskeys, 4 flavored whiskeys which they infuse with hand selected fruit, vodka, absinthe and much more! These guys are true renaissance men of their craft.

What are your personal favorite craft spirits?
A.D. Laws Four Grain Bourbon! This whiskey is created using the uncommon mash bill consisting of corn, wheat, rye & barley. This whiskey is produced and aged right here in Denver from beginning to end. Rye driven with a malty body, finishing with classic bourbon characteristics, this whiskey has a flavor profile unlike anything I've had before. Here at Argonaut we were the first to buy an entire barrel and are now selling through our second. We hand select these barrels and our current is particularly well balanced and soft.

291 Colorado Whiskey - rye dominated and aged with toasted aspen staves. 291 is the first to use this Colorado-centric wood for aging liquor (as far as I know). This combination creates a dry and spicy profile our staff collectively loved. 291 also received a 94 point rating from Jim Murray of the whiskey Bible on their first barrel of their Colorado whiskey. Quite a feat.

Do you care to speculate on liquor trends for 2015?
Single Malt whiskey, produced from 100% barley, seems to be the newest category being given a particularly high amount of attention. Westland, out of Seattle, is making one of my current favorites. A near perfect blend of the classic malt flavors normally associated with a Scottish Speyside, balanced with a richer and lightly sweet palate courtesy of new and heavily charred American oak barrels. This whiskey is also non-chill filtered leaving its oily & viscous texture intact.

Delving deeper into Scottish traditions we expect to see Westland's Sherried and Peated labels on Colorado shelves soon. We've also been enjoying single malts from Colorado, Tennessee, Iowa, North Carolina, Oregon & more. I expect this trend to continue and the whiskies to get even better with some extended aging.

The Gin category is another spirit enjoying a bit of a renaissance. Colorado is producing a plethora of gins in multiple styles from all parts of the state. Palisade's Peach Street Distilling, Golden's Golden Moon, and Boulder's J&L Distilling are a few stand out producers. Peach Street distills several different gins including a pear gin and an aged pear gin both of which are delicious and totally unique. J&L makes a western style straight gin from a sugar cane base. Western (or "New" Western) style tends to be more citrus driven as opposed to the classic juniper heavy flavor. Golden Moon has been crafting, among other great products, gin in Golden for a few years now. Recently we've stocked Golden Moon's Port barrel aged gin which is another unusual experiment gone very right.
Tell us about some new products.
We've picked up Colorado Honey Bourbon from Durango's Honeyville. Honeyville has been producing delectable Honey since 1918 and just recently entered the liquor market with their blend of Bourbon and honey which carries a lovely balance and natural flavor. The whiskey industry has embraced flavored bourbons over the last few years as a gateway to the overall category. While reviews on many of these products have been so-so at best, I think Honeyville will be quickly embraced as an alternative to many of the artificial and candy-like products currently being offered. Bourbon, after all, may have been the only way to improve on the sweet nectar being collected by the bees of Durango for nearly 100 years.

Jack Ryan Irish Single Malt Whiskey: One of my personal favorite new Irish releases is Jack Ryan 12 year "Beggars Bush" single Malt whiskey. As Irish whiskey's popularity has exploded over the last few years their well aged stocks and labels have been disappearing quickly, in favor of volume and immediate sales, over depth & character. The 12 year aged Jack Ryan has a great classic Irish palate with honey, pear, vanilla, light citrus, and malted barley, along with the benefits a significant aging process brings to the table. Think a viscous creamy texture, a touch of smoke (smoked honey), a long spicy finish, and even at a slightly higher proof than most Irish, Ryan sips with the best of them.

Queen City Vodkas: As of late vodka has been a never ending pool of strangely, and usually artificially, flavored and marketed bottles hoping to find a home in the highly coveted millennial market. Many of these disappear in short order simply to be replaced by the next odd concoction. Queen city has strayed from this generic formula to prove vodka can be flavorful, natural and of a high quality. These vodkas are produced locally with direction from Sean Kenyon (Owner, Williams and Graham) and distillation by Woody Creek Distillers. Crafted entirely from natural fruits & herbs these bottles are intensely flavored and aimed directly at the mixology market. Their Lime-Mint will prompt one to rethink their Moscow Mule, while flavors like Pineapple, Toasted Coconut, and Sweet Dark Cherry have nearly endless applications. A plethora of great recipes for each flavor can be found at Queen City's website.
Does Argonaut hold craft spirit tastings?
We do liquor, beer and wine tastings in the store on Friday's and Saturday's, from 3:00 – 6:00, the products being served vary widely. Your best bet is to like us on Facebook to stay in the loop.